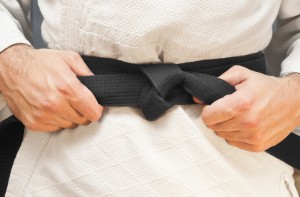 Correct breathing seems to be a factor in all martial arts. If we get this wrong we compromise everything. Breathing is almost as fundamental for martial arts as it is for life. No breath, no life.
Exercise spends energy. The only ways to make more energy is by eating or breathing. Exercise will give us an energising effect by improving circulation; it utilizes the energy already in us. And in the long term the cumulative effects of exercise will allow us to have more energy at our disposal. But correct breathing and eating are essential for energy.
Our lungs are fairly large.  Many people get into the habit of using less than half of their lung capacity. Our lungs can be divided into 5 lobes, most people having three on the right. If we get into the habit of only using the lobes at the top of the left and right of our lungs we are only operating at part capacity. Over time it becomes harder to change breathing habits; older people may show atrophy in their lower lungs.
Karate Breathing Exercises
Find an area that does not have any pollutants in the air.
Find a comfortable position, lying down or sitting in a chair. Standing is ok if you have no other option.
Place your hands below your navel, so you can feel your abdomen move.
Breathe in slowly through your nose, and hold the breath. Fill your lungs up completely.
You should feel your abdomen expand as you breathe, not just your chest.
Breathe out through the mouth, taking 50% longer to breathe out that it took to breathe in.
Some people advise a 1-4-2 rule for this breathing – Note how long it takes to inhale; hold your breath 4 times as long as this. Then take twice as long for the exhale as it took for the inhale.
Try to do this three time a day.
As you learn some karate moves you will learn to exhale at the right time in order to optimize your strength.