We are all in the misleading habit of seeing our own culture and background as normal, and then being a little surprised when the rest of the world does things differently. But then again, the whole point of travel is to experience something new.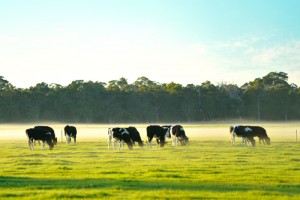 Distances – Australia may have a moderately small population, but it is spread out over a very large area. There is no way to see it all in a short period, and no way to cycle between most destinations.
Whether – the short answer is that the country is in the southern hemisphere, so the seasons are opposite to the northern hemisphere. But as the country is very large there is enormous variation. The areas near the equator, like North Queensland, experience rain when the southern states have a hot summer. There is everything from semi-rainforest to skiing.
Cuisine – Australia is as multicultural as any place on earth, and the diversity of the food reflects this. The same city street has everything from fine Italian coffee to great Thai.
Yes, you can eat kangaroos and emu meat. It is only slightly uncommon.
Most shops do close after normal working hours, though there have been some 24 hours stores operating for many years.
You can climb the harbour bridge as part of a paid tour, but not take photos. Or you can just climb the pylon near Milson's point. The Sydney bridge climb is a highly rated experience in many travel guides.
Ticketing between many attractions in Sydney or Brisbane is connected. You get a discount at one attraction if you have recently visited one or two of the others. Darling Harbour sites, like Sydney maritime museum tickets, are one example.
There is minimal social hierarchy. For the most part, people are people and not a social class. Individuals who try to act superior are cut down.
There are poisonous animals, but any incidents of fatalities are very rare.
Tipping is not expected, but not refused either.
Sydney day tours get as many good experiences into your vacations as possible. Avoid all the travel arrangements and avoid waiting between events. Sydney day tours know from experience where the best attraction is.