Why Clean Teeth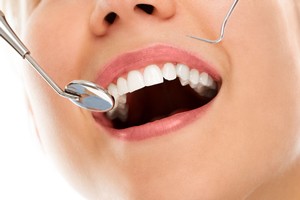 It is too easy to neglect dental health. People prefer the aftertaste of the last meal to the strong taste of toothpaste. Some people claim not to have the time to brush their teeth; but the few minutes spent brushing your teeth each day prevents most dental problems and the discomfort of serious dental procedures later on. A study once showed that the most successful people in life were the ones who tolerated short term inconvenience over long term problems. Brushing your teeth is an example of this.
More than Just Brushing at Home
Even with regular brushing and flossing individuals should have a dental check-up every 6 months. Early detection can prevent permanent damage to teeth and gums and avoid costly and uncomfortable treatments latter on. Problems like tooth decay are often accompanied by at least some pain or physical signs of change, and should be checked straight away. But problems such as gingivitis are not obvious of painful at first, making regular check-ups essential.
Regular dental cleaning, recommended every six months, not only removes plaque, tartar, bacteria and other problems, it also makes teeth feel smoother by polishing them. This in turn helps them stay clean as bacteria are less inclined to stick to them.
Food
The advice your grandparents gave about healthy eating is probably not too far from the truth. Vegetables, dairy foods, apples and other forms or healthy eating make all the difference to one's dental health. Green teas also seems to help teeth and breath considerably.
Sticky food and anything acidic tends to be very harmful. This includes obvious culprits such as soda and sugar, but also a few healthy foods like orange juice. It is less about the amount consumed than the regularity of consumption. Harmful food eaten several times a day is worse that a greater amount of harmful food consumed in one sitting.
Chewing gum that is sugar free can be beneficial for teeth, though the artificial sweeteners used in the gum can have their own health issues. Patients experiencing drowsiness, insomnia of other issues should consult an allergy specialist.
Regarding any concerns about dental care, Sydney based Dental Focus can address any problems.